This week Christina Nguyen of Desert Sky Interiors walks us through her most recent family room makeover.
A Room makeover can be a lot of fun. You don't have to spend a lot of money on new décor for a room makeover either. Sometimes a makeover is as simple as moving a few existing pieces around into a new spot and sprinkling in some new pieces to tie the look together. In other cases, it's more involved and includes changing the wall color and new furniture to really transform the space, especially if you are changing your style.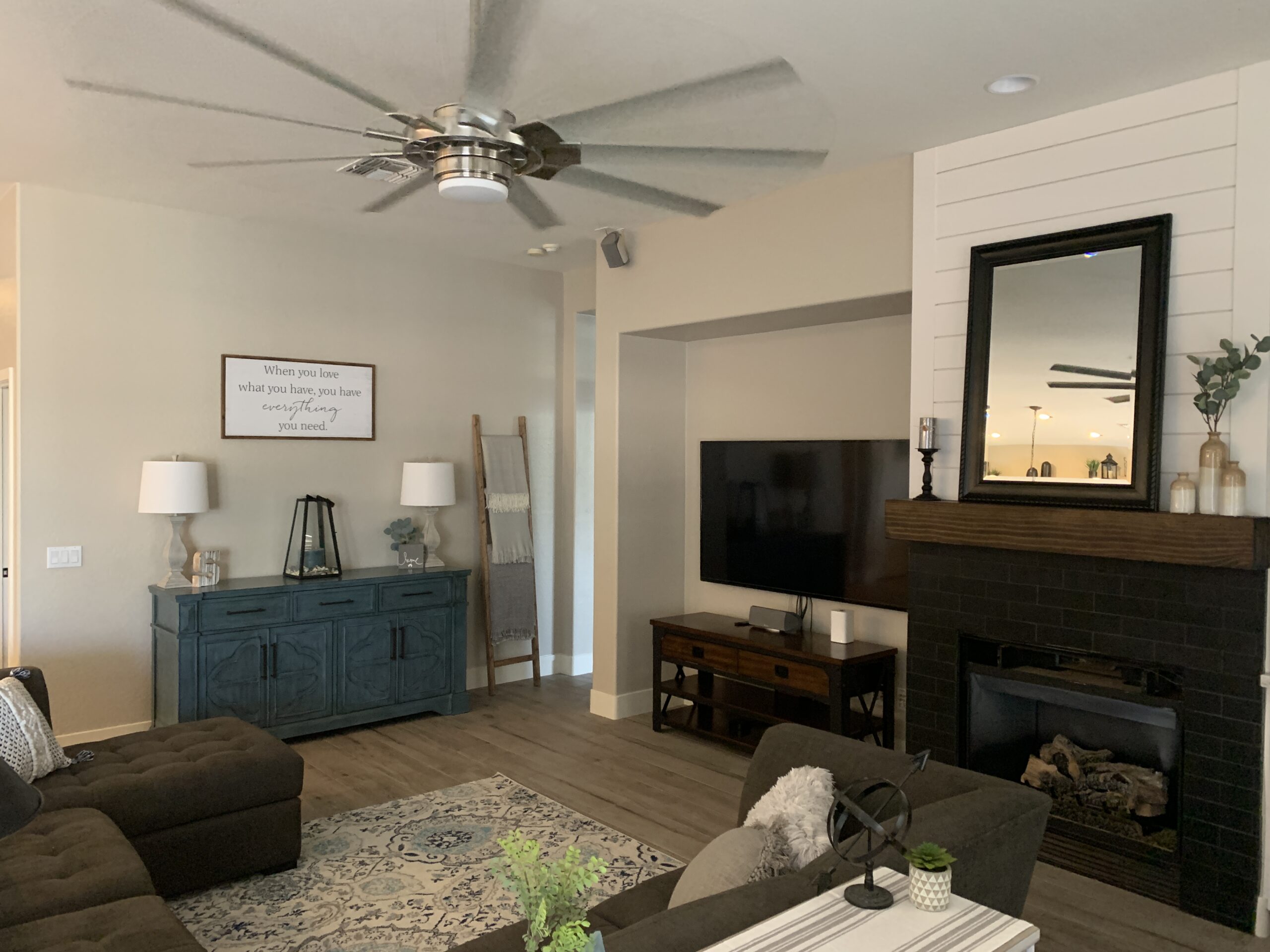 I recently had the pleasure of working with a very sweet family in Gilbert, AZ who had recently installed new flooring, paint and baseboards, along with a fireplace makeover. They had several great pieces of furniture and wanted help styling the room with décor and accent pieces. What made this makeover even more fun, is they were heading out of town. While they were gone, I styled their home and they came home to see the surprise reveal!
I am a big fan of utilizing the existing furniture and décor and incorporating those items into the room. I separate all the existing items into sections: greenery, candles/candlesticks, pictures, wood décor, glass décor, metal decor and linens. I start by selecting items from the existing décor and style the room. After existing items are placed, I make a list of filler items needed and then head to the store (or online) for last minute touches.
For this room, I started with the main focal point of the room, the fireplace, and worked my way around. I used an existing mirror that did not go with the new color palette (it was a rustic brown) and spray painted the frame black to coordinate with the new black tile around the fireplace. I placed it over the mantle of the fireplace, added a candlestick and candle, and a trio of two-tone ceramic jars that pulled the neutral color from the walls and added some eucalyptus leaves. Check out mirror options here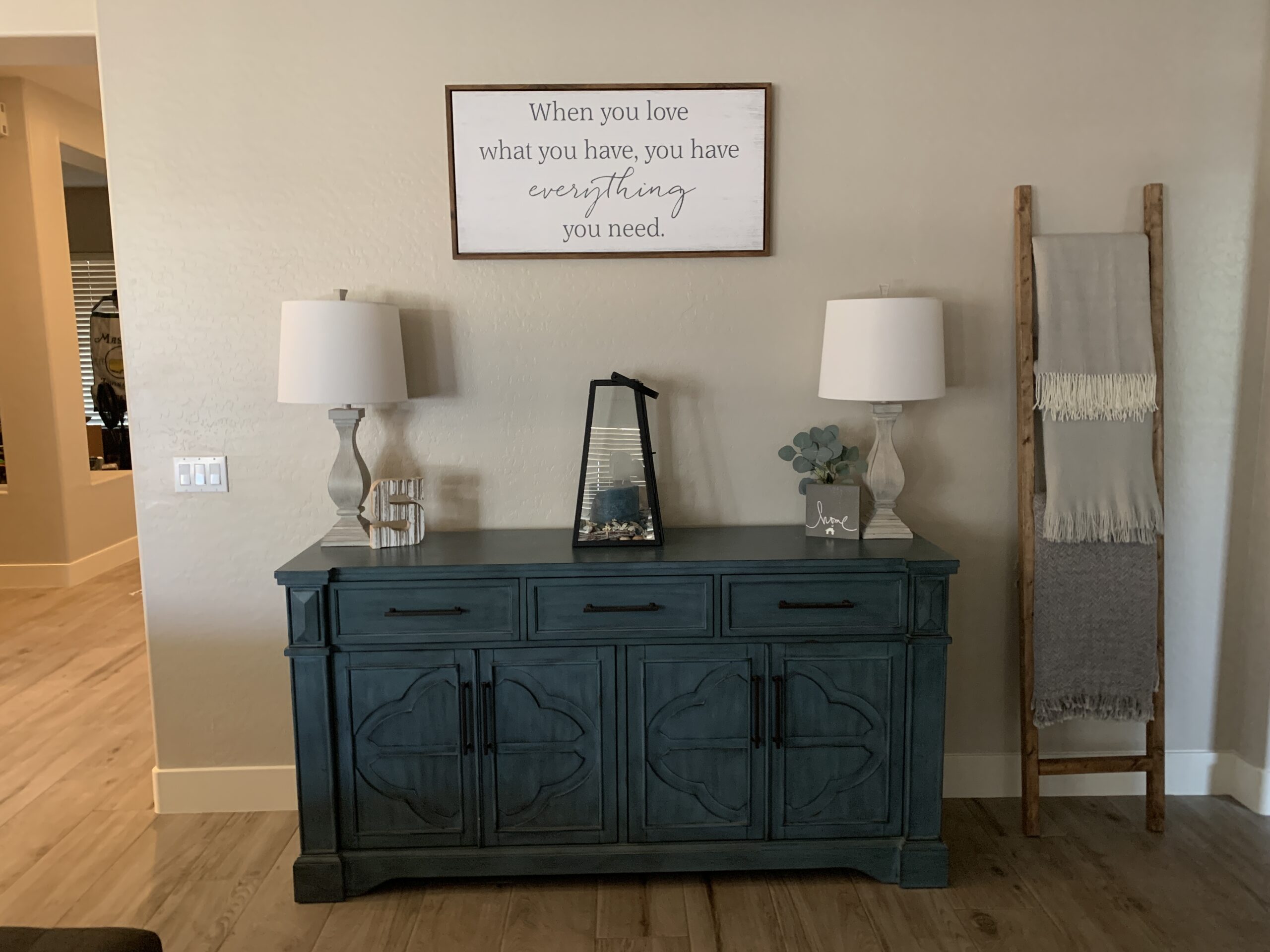 Next, I turned my attention to this beautiful blue storage cabinet.  The cabinet is a fantastic statement piece in the room and doubled as additional storage for serving dishes and holiday décor that are used only a couple of times a year. I used a pair of existing lamps and décor and styled the top. I added new artwork in the form of a quote above the storage cabinet and off to the right side, a blanket ladder completed the décor in this part of the room.
For the sitting area, the existing sectional fit the space and new color scheme perfectly. The room needed a new, larger area rug and this one had a pop of color in some beautiful blue hues (which also coordinated with the blue storage cabinet) and a pretty pattern. The finishing touches were new throw pillows and a new throw blanket, making the room feel very cozy, warm and inviting.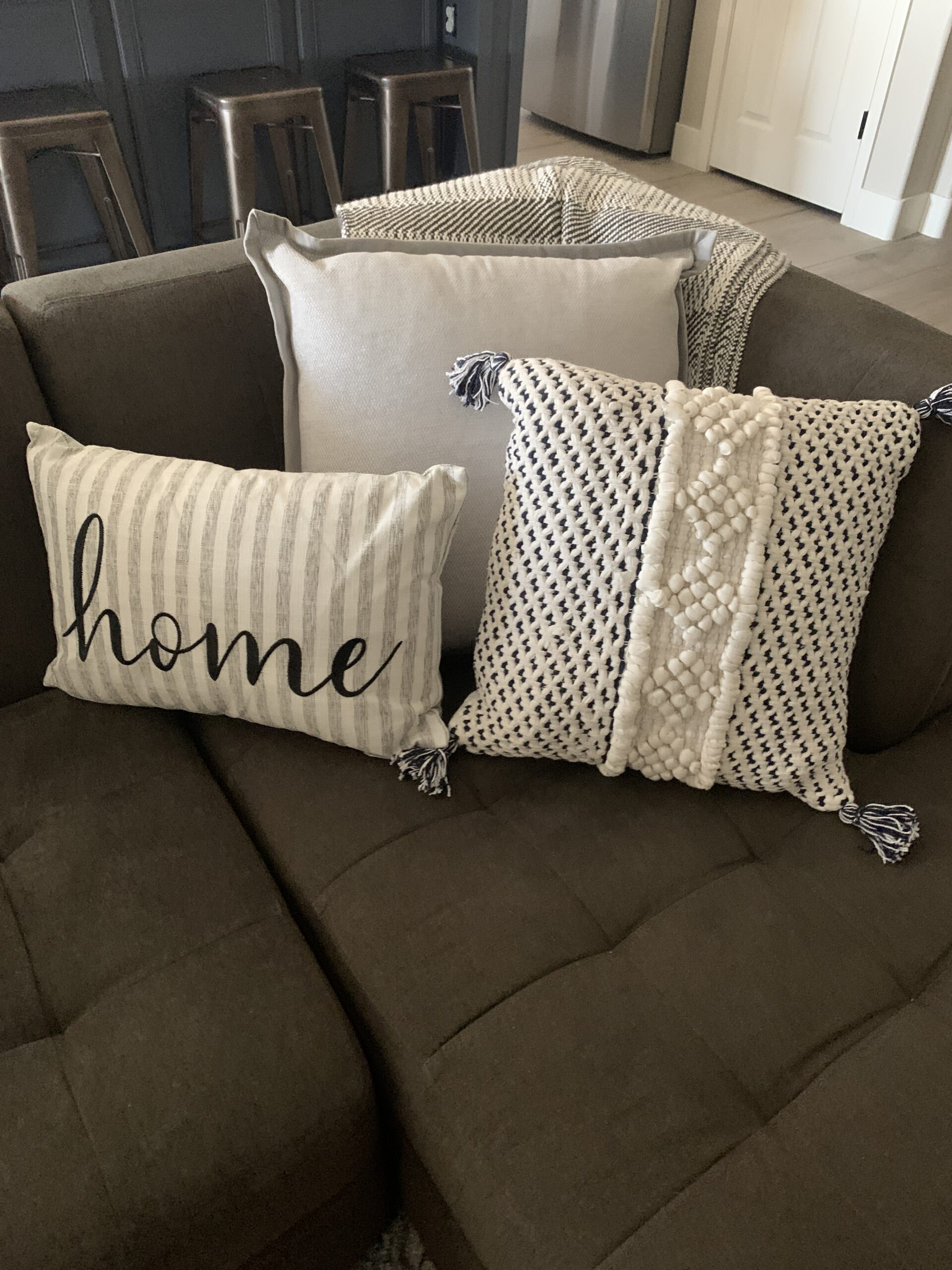 Whether you need help with styling a room, a color consult, selecting new furniture or décor or materials selection for a remodel, please contact me to set up a consult. I would be happy to help you makeover the room of your dreams
---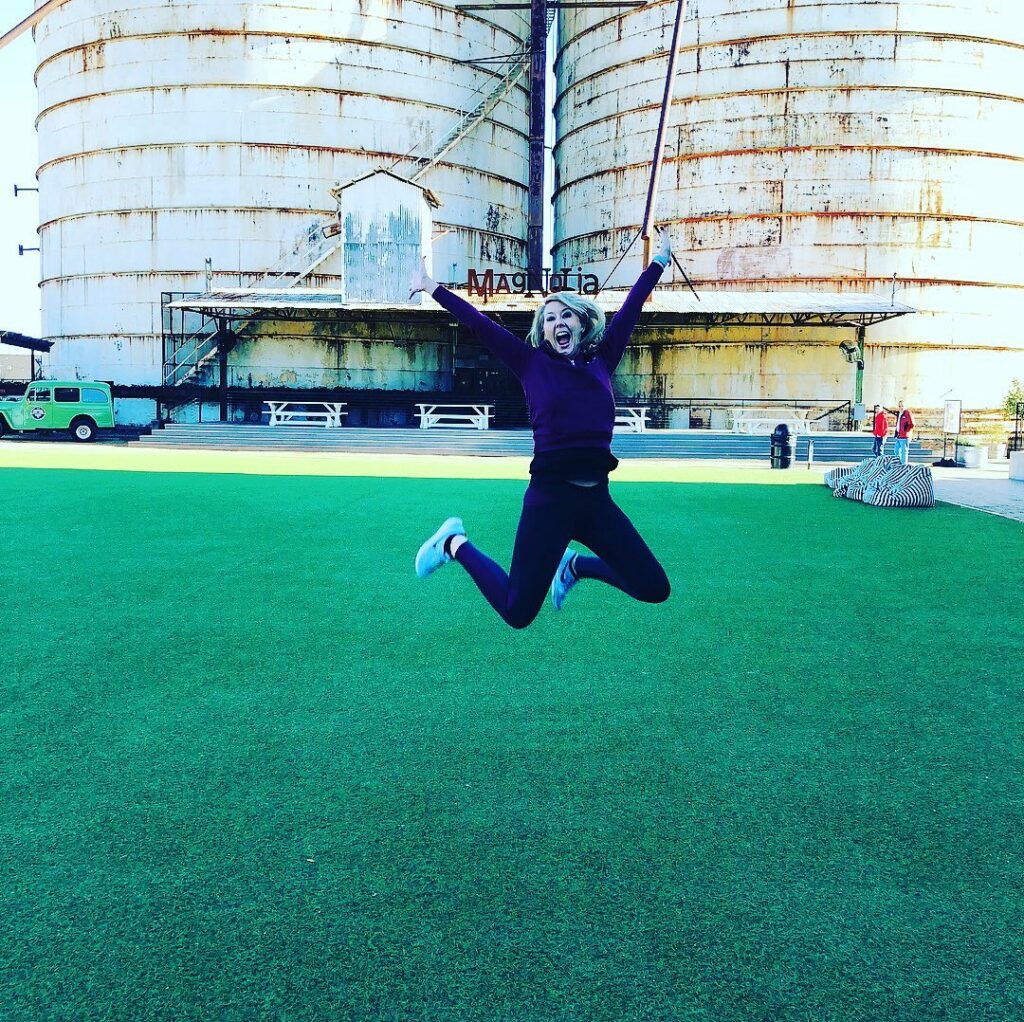 Content by: Christina Nguyen – Desert Sky Interiors
Christina Nguyen is the owner of Desert Sky Interiors. Her passion for design and interior decorating started several years ago when she was decorating her home. The more I played with color, textures, furniture, and styles, the more she discovered how much fun it was. Christina found it so rewarding to take a plain, boring house and help it breathe new life and showcase its true beauty. She now enjoys sharing her passion with others. If you are looking to redecorate or remodel your home, Christina would be so honored to be a part of it.
Email: desertskyinteriors@gmail.com
Phone: 480-241-6936