This week we bring you a traditional Irish Beef Stew recipe is brought to us from Simply Recipes.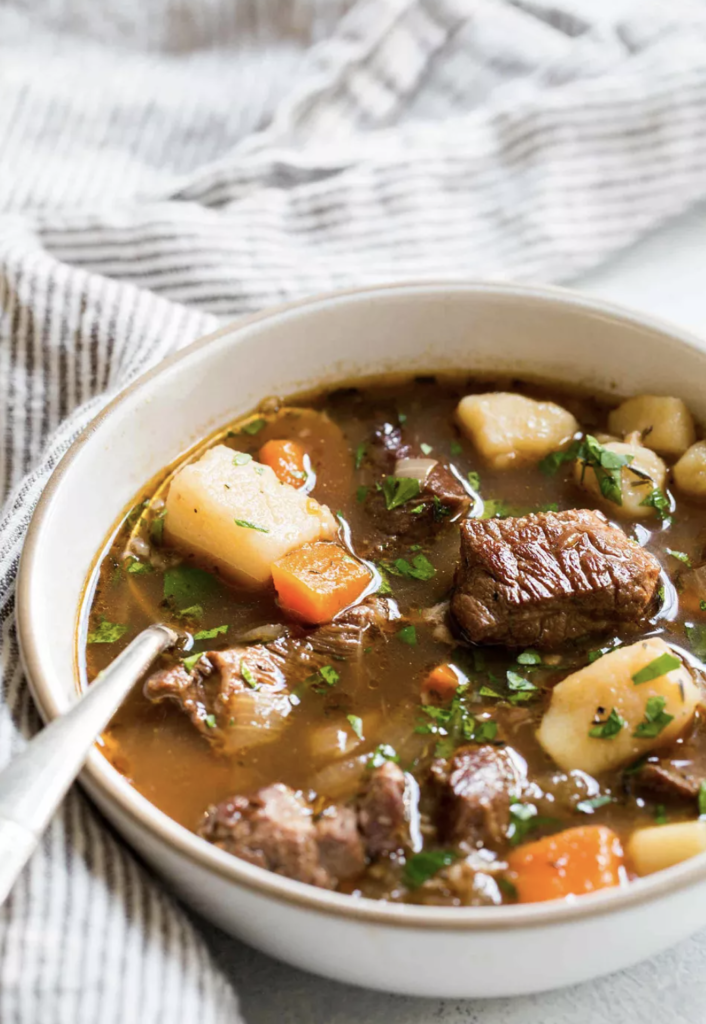 Ingredients
1 1/4 pounds well-marbled chuck beef stew meat, cut into 1 1/2-inch chunks
3 teaspoons of salt (more to taste)
1/4 cup extra virgin olive oil
6 large garlic cloves, minced
4 cups beef stock or broth
2 cups water
1 cup of Guinness extra stout
1 cup of hearty red wine
2 tablespoons tomato paste
1 tablespoon sugar
1 tablespoon dried thyme
1 tablespoon Worcestershire sauce
2 bay leaves
2 tablespoons butter
3 pounds russet potatoes, peeled, cut into 1/2-inch pieces (about 7 cups)
1 large onion, chopped (1 1/2 to 2 cups)
2 cups 1/2-inch pieces peeled carrots and/or parsnips (3 to 4 carrots or parsnips)
1/2 teaspoon freshly ground black pepper
2 tablespoons chopped fresh parsley
Instructions:
Brown the beef: Sprinkle about a teaspoon of salt over the beef pieces. Heat the olive oil in a large (6 to 8 quart), thick-bottomed pot over medium-high heat. Pat dry the beef with paper towels and working in batches, add the beef (do not crowd the pan, or the meat will steam and not brown) and cook, without stirring, until well browned on one side, then use tongs to turn the pieces over and brown on another side.
Add garlic and sauté, then add the stock, water, Guinness, wine, tomato paste, sugar, thyme Worcestershire, bay leaves, simmer: Add garlic to the pot with the beef and sauté 30 seconds or until fragrant. Add the beef stock, water, Guinness, red wine, tomato paste, sugar, thyme, Worcestershire sauce, and bay leaves. Stir to combine. Bring mixture to a simmer. Reduce heat to the lowest setting, then cover and cook at a bare simmer for 1 hour, stirring occasionally.

Sauté onions, carrots in the separate pan: While the pot of meat and stock is simmering, melt the butter in another pot over medium heat. Add the onions and carrots. Sauté the onions and carrots until the onions are golden, about 15 minutes. Set aside until the beef stew in step 2 has simmered for one hour.https://c9986f7adb38a9c06236f89a2cc3c117.safeframe.googlesyndication.com/safeframe/1-0-37/html/container.html

Add onions, carrots, potatoes to beef stew, simmer: Add the onions, carrots, and the potatoes to the beef stew. Add black pepper and two teaspoons of salt. Simmer uncovered until vegetables and beef are very tender, about 40 minutes. Discard the bay leaves. Tilt pan and spoon off any excess fat. Transfer stew to serving bowls. Add more salt and pepper to taste. Sprinkle with parsley and serve.